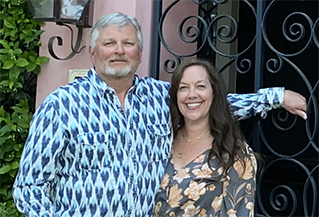 $100,000 donation to fund nurse education
June 17, 2022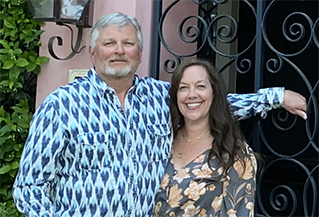 A Bend couple's $100,000 gift to the St. Charles Foundation will help fund education and training for nurses in St. Charles Bend's Intensive Care Unit.
Chris and Laura Crownover said they made the donation because of the high-quality care Chris received during a stay in the ICU last year.
"We wanted to do something that would encourage (the nurses) and give them something special," said Laura, who has been married to Chris for 35 years. "The nurses we had showed us a lot of compassion and kindness, just by talking with us and visiting with us, and the time and attention they gave us."
Crownover spent 17 days in the hospital – including 15 in the ICU – last summer after undergoing emergency surgery to drain blood from his brain after one of his blood vessels burst.
"I get headaches," Chris said. "I threw up one night and then the next day I felt better. But that afternoon, my headache came back and it was so bad, I told Laura I needed to go to the hospital."
At St. Charles Bend, a CT scan revealed the bleeding, Laura said, and caregivers quickly began to prepare him for surgery. "I barely was able to bring my four kids in to see him and then they whisked him right away," she said. "It was pretty scary."
Chris was in surgery for more than two hours, and his prognosis afterward was good. Over the next couple of weeks, however, he experienced a number of complications, including a seizure and more bleeding, said Laura, who stayed at the hospital from 8 a.m. to 9 p.m. every day Chris was in the ICU.
"It was a lot of days with a lot of different (caregivers), and I felt like we got very good care," she said. "They were attentive and kept us pretty well-informed."
Because of COVID-19 restrictions, Chris was limited on how many visitors he could have, so a couple of times, nurses wheeled him out to the front of the unit so he could see his adult children. It was those kinds of efforts that motivated the Crownovers to make a donation.
"I'm just so grateful to be alive," Chris said. "We had the money to do it, so we did it."
The Crownovers' gift comes at a time when St. Charles is facing significant financial challenges, and the money will fund important educational efforts.
"Our nurses are the best of the best, and St. Charles is committed to making sure they get the education and training they need to continue to practice at the highest level," said Joan Ching, vice president and chief nursing executive for the health system. "This money will definitely help us do that, and we are so grateful to the Crownovers – and to hear that Chris is doing well."
Indeed, Chris said he's feeling great. "I'm pretty much perfect now," he said with a laugh, before pausing and continuing. "Other than the scar on my head. It looks like someone did brain surgery on me."
St. Charles Foundation provides scholarships to nurses and other caregivers through several special funds, including one recently set up in memory of Dr. Doug Lowery-North. An emergency physician for more than three decades, Doug highly valued the nurses he worked with and the nursing profession as a whole. Through donations to that fund, nurses and certified nursing assistants at St. Charles will continue to have access to scholarships and continuing education.
"Gifts from community members like the Crownovers allow St. Charles Foundation to continue to support the nonprofit St. Charles Health System in providing top-notch care," said Michelle Solley, philanthropy officer for the foundation. "We so appreciate their generosity."
If you would like to make a gift to St. Charles Foundation to support health care in Central Oregon, go to stcharlesfoundation.org or call 541-706-6996.