Heaven Can Wait
A virtual race to benefit Sara's Project for breast cancer education and patient support
Body
2021 Heaven Can Wait
We're excited to announce this year's Heaven Can Wait 5K will be held June 6 through 13, 2021. To keep our community safe, we will present this event virtually and invite you to share your photos and stories via email and on our Facebook page. Our goal is to raise at least $80,000 for Sara's Project for breast cancer education and patient support in Central Oregon. For regular updates, follow our HCW 5K Facebook page.
About this year's artwork
The Japanese writing on our 2021 promotional materials can be loosely  translated to "You never walk alone." The two purple Japanese irises gently support each other, representing wisdom, faith and bravery. The tiny blue teardrop acknowledges the struggles every cancer patient faces. Although the pandemic may keep us from gathering for an in-person event this year, we hope the artwork will serve as a reminder that we all walk or run to support those battling cancer, to honor survivors, and to remember those who have passed. You never walk alone.
St. Charles Caregivers who wish to register via payroll deduct can email cdfields@stcharleshealthcare.org
Read more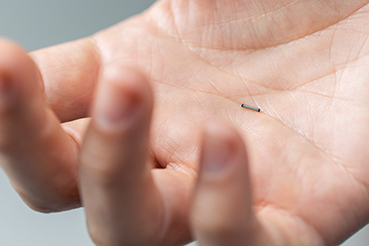 Tiny tech makes a big impact on breast cancer care
St. Charles Cancer Center has begun using Magseed—a tiny, iron oxide "seed" that is implanted in a cancerous breast tumor to mark its location for surgery.
Read more
Posters from the Past